Here at Hopkins Mountain Horses, we are very blessed by our broodmares. We are proud to have own daughters of MAPLE'S SQUIRREL, NUNCIO, DOCK, & CHOCO DOCK, as well as granddaughters of KILBURN'S CHOCOLATE SUNDOWN & JOHNSON'S TOBY. The charms of their pedigrees are surpassed by their grace and beauty. To give you a glimpse into their personalities we have included their birthdays and the personality profiles as defined in The Secret Language Of Birthdays by Gary Goldschneider and Joost Elffers.
Count On Me V.B.F ~ RMHA#910193 KMSHA#9708117
Born on May 21st on "The Day of Unfailing Vision"


CLiICK TO VIEW SLIDE SHOW

---

Nuncio's Chocolate Gala ~ RMHA#950282
Born April 17th on "The Day of Serious Purpose"


NUNCIO
X
BACK'S STAR
1995 Chocolate Mare
3 X RMHA International Conformation Champion!!!
In foal to Hopkins' Gentle Bender for a 2016 RMMule!


---

Hope Springs Belen ~ RMHA# 960158
Born May 3rd on "The Day Of The Social Realist"
IN FOAL to SUNDOWN COWBOY for a 2017 BABY!!!


MAPLES SQUIRREL X
NUNCIO'S NATA by NUNCIO
This beautiful mare is a treasure to us. Sired directly by Maples Squirrel, this beautiful mare has been a staple of RMHA founder Rea Swan, who raised her. We feel very blessed to have her with us now in Kansas. She produced our amazing 2016 GRULLA Spanish Sundown filly, HMH Spanish Sunrise, and now Belen is expecting a 2017 Sundown Cowboy baby. This beautiful and charming mare is Alliance's Gone N Dun It's granddam.



---

Surprise Dancer ~ RMHA#1999006329
Born April 30th on "The Day Of Dutiful Overload"


COCOA CALIENTE X
CHOCO DOCK MOCHA
by Choco Dock

We found this little mare in Ohio and new we needed to go get her. She is a half sister to the incredible late Klassic Caliente, whom we will never forget, and her dam is a Choco Dock daughter. But her pedigree isn't her best attribute... Dancer is a wonderful Kid horse! She is the trusted steed of Gido Tom, and any and all visiting family and children to our farm. We hope to raise a few good foals out of her and enjoy riding her with our family for years to come. Dancer is NOT for sale.


---

Stormy Falcon ~ RMHA# G2002008828
Born April 1st on "The Day Of Dignity"
CONFIRMED in FOAL to Hopkins' Gentle Bender for a
2016 Gaited Fast Racking Rocky Mountain Mule!


ROWDY'S STORM

by EZD FALCON ROWDYX

HOWARD'S MOLLY

by MAPLE'S SQUIRREL

Stormy Falcon is one of a kind. She is a beautiful Chocolate Cream granddaughter of Maple's Squirrel and the famed speed Racking Stallion EZD Falcon Rowdy. This incredible stallion was known for his heart, vigor, speed, and stamina. With her Rocky bloodlines on top we think that Stormy is a rare combination of a long list of very desirable characteristics.

CLICK HERE to see Stormy's SUPER fast granddaddy

...

Stormy gave us a beautiful PALOMINO filly, born June 19, sired by HICKORY RIDGE; our HMH PRETTY PRAIRIE FALCON!!!

---

SPANISH SUNDOWNS SCOTCH BONNET ~ RMHA#2002008069
Born April 10th on "The Day Of Daring"
Confirmed IN FOAL to Forest for a 2016 GAITED ROCKY MOUNTAIN MULE!!!

SPANISH SUNDOWN
X
HOPE SPRING'S CHILLITEPIN

This gorgeous mare is a true Kentucky gem! We purchased "Bonnie" directly from the founder of the RMHA, Rea Swan, who has raised her. This mare is a push button saddle horse who is easy and fun to ride. Bonnie is also an outstanding broodmare and the dam of Tigre de Tejas who stands at stud at Blue Bonnet Stables in Southern Texas, and she has produced many other nice foals. We thought her breeding career had ended five years ago when she sustained an injury to her cervix during the delivery her last foal, but decided just recently that she had other ideas! When we arrived home in September with our new gaited jack Forest, Bonnie and Forest FELL IN LOVE @ FIRST SIGHT and conceived! She will be staying here to have our first Forest baby mule, and hopefully some beautiful Rocky foals in the future, too! Bonnie is no longer for sale.


---

LEWIS SLATE
X
JOHN'S GRANDE GINGER
This beautiful buckskin mare is a granddaughter of Kilburn's Chocolate Sundown. Moonbeam is an impressive 15.2 hand mare who we purchased from Rea Swan in the Spring of 2015. This mare is a BLAST to ride, and boy howdy can she GO! She is now one of our favorite saddle mares. We think she will be a wonderful mare to cross on our stallions, and we are absolutely in LOVE with her new 2016 Alliance's Gone N Dun IT stud colt, whom we are calling "Shooter." His color test identify him to be a SMOKEY GRULLO; EECrDd! NO Z!


---

She's Foxy ~ RMHA#2003010880 KMSHA#200312121
TESTED PSSM1 NEGATIVE!!!
Born June 15th on "The Day of Pleasant Seduction"
In foal to Sundown Cowboy for 2017.


PURDUE'S OSCAR
X APPALACHIAN BELLE
We could not resist bringing home this beautiful mare, She's Foxy. She and Cowboy have produced multiple fine Rocky/Kentucky Mountain Horse foals and her 2016 SILVER DUN stud colt born here at HMH is no exception! This handsome guy, whom we are calling Foxy Cowboy, has a beautiful big white star, just like his mom, and is a RACKING MACHINE! He's FOR SALE and is a fantastic stallion or gelding prospect! RMHA & KMSHA eligible; color tested EeDdnZ, just like his sire Sundown Cowboy.


CRS Nehi ~ RMHA# 2010043394
Born September 14th on "The Day Of The Perceptive Critic"


---

(You can also click on the images below to see a
larger view of these vintage "Genuine Nehi Soda" signs...)
Toby B'S Smokin Cinder ~ RMHA# 2010043126
Born April 20th on "The Day Of Worldly Challenge"
In Foal to Sundown Cowboy for a 2016 Rocky Mountain Horse!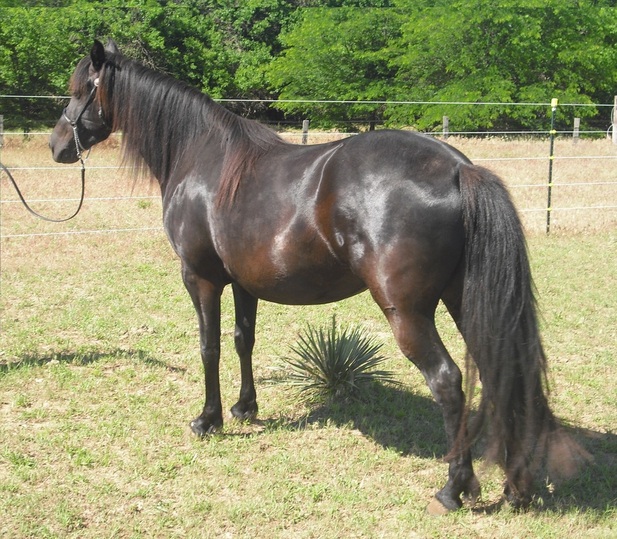 TOBY'S HENRY B. (JOHNSON'S TOBY) X EBONY'S TRINKET
Cinder was the first Rocky Mountain Horse we ever purchased! To learn more about this special mare and see her SLIDE SHOW, click HERE or on her photo...
Cinder delivered HMH KLASSIC CADENCE RMHA#2014045619, a beautiful chocolate filly, for us on June 13, 2013. As she is the last foal of the late Klassic Caliente, we will be retaining her for our breeding program. In 2015 she delivered Ashton a beautiful baby mule, Handsome Mr. Hopkins.
---
Cinder and her first foal KC are in full flight to the RIGHT...
To the LEFT see all the reason's why she is our
Ultimate Family Horse...

HMH Klassic Cadence RMHA#2014045619
Born June 13th, 2013 on "The Day of Far-Off Adventure"

KLASSIC CALIENTE
X TOBY B'S SMOKIN CINDER
Chocolate Filly
"KC" as she is known on the farm is part of our family. She is the first daughter of our first Rocky Mountain mare, Cinder, out of our first foal crop of 2013. She is our son Boston's horse, and loved not just by him but by all of us, and by EVERYONE who meets her. She has that special something that her breathtaking sire, the late Klassic Caliente, possessed. She is his last foal, and she will stay here at HMH to continue his legacy.

FHF UNION STAR RMHA#2015483853
Born May 13, 2014 on "The Day of Natural Appeal"

UNION BLUE X
TIP'S WALTZING MATILDA
GRAY ROAN Filly
We are proud to have brought home from Kentucky a beautiful Grey/Blue Roan daughter of UNION BLUE, who we will be proud to have in our program. FHF Union Star is turning out to be SO NICE we are going to bring home her dam, TIP's WALTZING MATILDA, DAPPLE GRAY daughter of Blue Mountain Tip by Blue Mountain Rumbo, by Clemon's Tim!

COMING SOON!
New information about our JUNIOR MARES, COMING SOON!!!
We are adding a beautiful HOMOZYGOUS SILVER filly sired by Amego's Rockin' Gem to our program who is double registered RMHA/KMSHA, BBS Lady Ragtime. More info on this BEAUTIFUL mare, and Star's GRAY dam Tip's Waltzing Matilda, coming soon!

Fiji ~~~~SOLD!!!!~~~ RMHA#2003010809
CONGRATS to DONNA of OKLAHOMA on her purchase of CHILLY, FIJI'S BIG BEAUTIFUL CHOCOLATE FILLY, sired by QUICKSILVER, born JAN 15, 2015!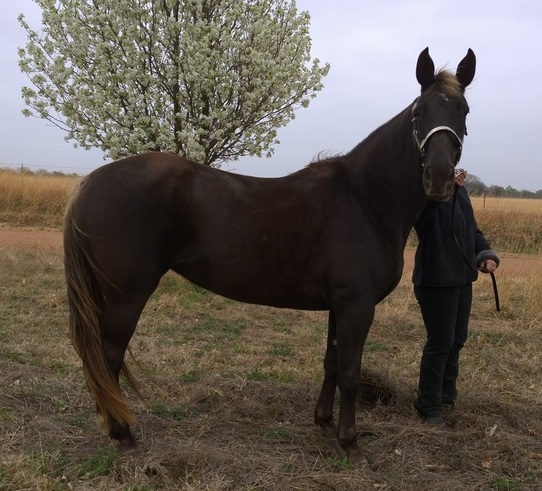 SAM'SONS MOUNTAIN MAN
X
FASCINATING RYTHM
DOB June 26, 2003
This wonderful mare is broke for anyone and is a beautiful dark chocolate/flaxen mane and tail mare who's sire, Sam'Sons Mountain Man, is a Sam'son son and out of a mare that is a FULL SISTER TO DOCK! Her mare lines go back to Tim and Johnson's Toby.
She is easy tempered, and has a beautiful trail gait.
Congratulations to Steven of Emporia, Kansas, for the purchase of this wonderful mare. We are proud that we could bring you your dream horse!
For more about this lovely mare, click here...
---
SOLD!
Sam'Sons Sonnet RMHA#941037 KMSHA#970697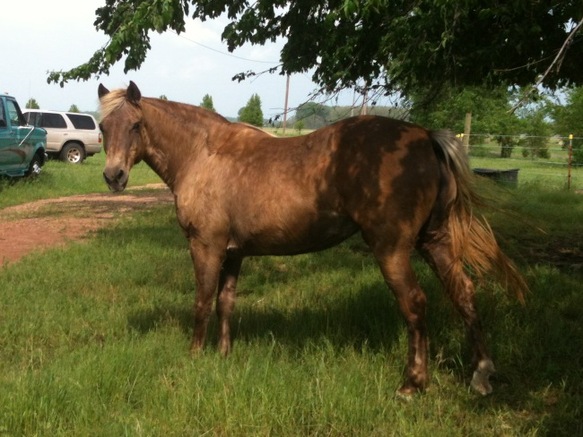 Sam'Sons Sonnet in the front yard of her KS home, late May 2013. Click to view a Sonnet slide show.
---