We are PROUD to introduce our
NEW PROVEN GAITED JACK, HOPKINS' MIRACLE MAN, "FOREST", a grandson of Redman, bred by the late Bill Moore of Stepping Out Farms and founder of the American Gaited Mule Association!!!
$500 LLG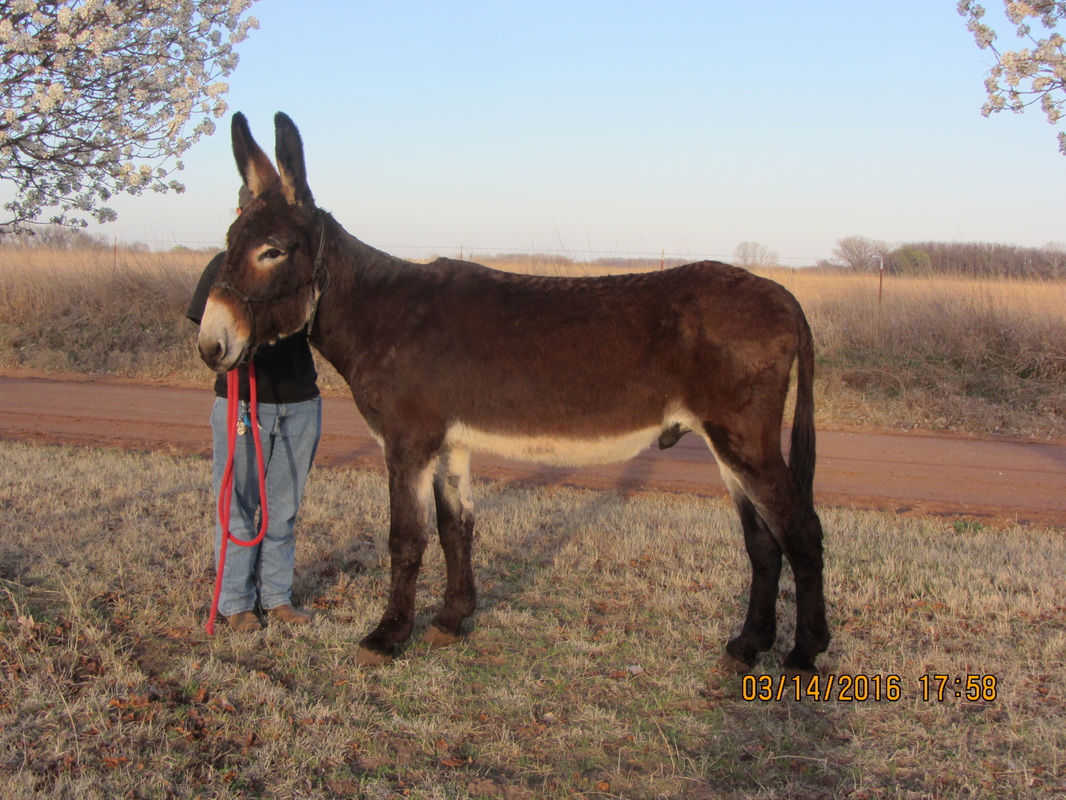 We saddled Forest up for the first time in April 2016 and took him for a spin, and were very pleased when he gaited smoothly off under saddle. For being a 10 year old Jack Donkey with minimal saddle training (if any) we felt like Forest did wonderfully on his first ride! He has a mild mannered, kind, willing disposition, he really loves attention, and being around people. See a short clip from his first ride below, and see his natural 4-beat gait in slow motion!

Bender will be moving to Utah in May 2016 with new owners, so don't miss your chance to have a baby sired by this outstanding naturally gaited jack, Hopkins' Gentle Bender! OFFERED AI & LIVE COVER at HMH! Call us today for a contract and availability!!!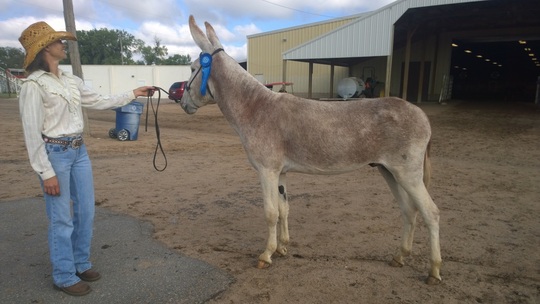 HOPKINS' GENTLE BENDER
is now the
2014 & 2015 KANSAS STATE MULE & DONKEY SHOW HALTER & 2014 TRAIL/OBSTACLE DONKEY WINNER!!!

---
Now, here is what everyone has been waiting for...
Bender UNDER SADDLE in SLOW MOTION!
Only at HMH will you find a gaited donkey in SLOW MOTION! Now, see Bender win his TRAIL CLASS below!
On September 6th at the Kansas Mule and Donkey Show, held at the Kingman County Activity Center, we exhibited Bender under saddle and showed off his baby brothers and sisters in the halter classes! Our weanling mules won 1st and 2nd in their classes, were also featured in their very own special lunchtime exhibition in hand over the obstacle course, and Bender clenched the Halter Donkey Championship and then the Open Trail/Obstacle class, completing all obstacles in the course, in under 7 minutes! We are so proud of all our long ears! Thank you to all our friends who came out to support us, and a special thanks to our talented friend Julia Hoffman, for helping us in our halter classes. Without her, our great showing would not have been possible.
Thank you, Julia, for leading Bender, Margarita and Hash to their victories!