We PROUDLY introduce the 2016 Kansas Mule & Donkey Show
Halter Donkey Champion & PROVEN GAITED JACK, HOPKINS' MIRACLE MAN, aka "FOREST", grandson of Redman, bred by the late Bill Moore of Stepping Out Farms and founder of the American Gaited Mule Association!!!
**$500 LLG** AGMA REGISTERED!** **FROZEN SHIPPED SEMEN AVAILABLE!!!**
While supplies last. Extra shipping charges apply.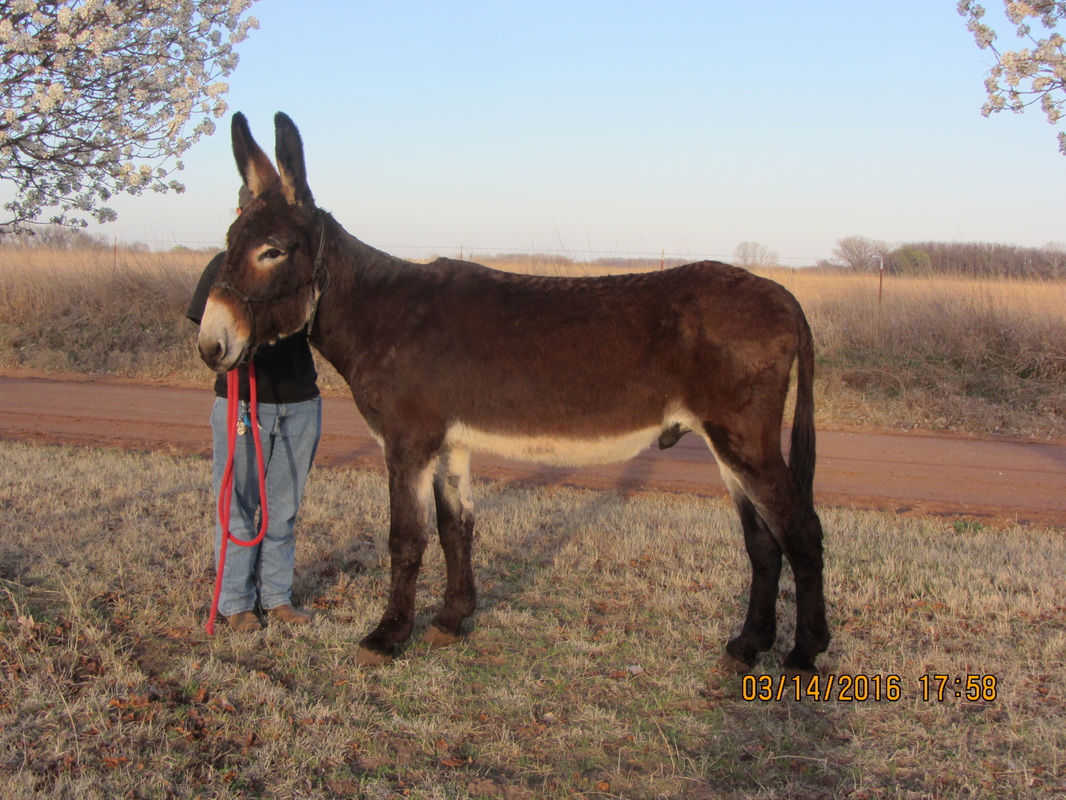 Forest, aka Hopkins' Miracle Man Gaited Jack AGMA#16-704, is expecting 2018 foals in Oklahoma, Texas, and Florida.
His get spans from Tennessee to Kansas, and now out west to Colorado, California & Oregon.
Forest is expecting a 2018 DONKEY FOAL in Florida, so his Miracle offspring will span from coast to coast!!!
Would YOU like to have your own Miracle Mule?
We'll make one to order out of your choice of our mares!
Or do you have your own special girl? Call us today for Hopkins' Miracle Man's FROZEN SEMEN NOW AVAILABLE!!!
In April 2016 we saddled Forest up for the first time and took him for a spin. We were very pleased when he gaited smoothly off under saddle. For being a 10 year old Jack Donkey with minimal saddle training (if any) we felt like Forest did wonderfully on his first ride! He has a mild mannered, kind, willing disposition, he really loves attention, and being around people. See a short clip from his first ride below, and see his natural 4-beat gait in slow motion!
Our premier AMGA Registered Bill Moore bred Gaited Jack, Hopkins' Miracle Man, aka Forest, has was sold in Feb 2018, and is now in NC. Congratulations Dave Currin. He is a great Jack and me miss him dearly, but due to family health issues we are scaling back on our program.
However before Forest left us we had him collected and frozen with success at the Kansas Center for Equine Reproduction in Lawrence, Kansas! We now offer our his services via FROZEN SEMEN services, and we will custom make your mule to order! While supplies last!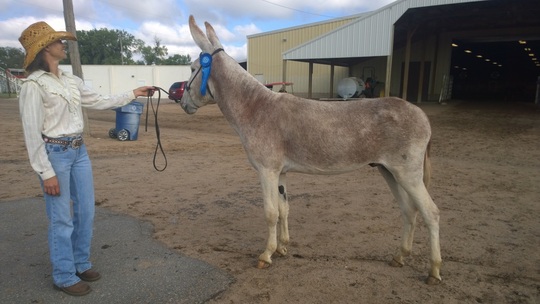 Our 1st jack HOPKINS' GENTLE BENDER, was the
2014 & 2015 KANSAS STATE MULE & DONKEY SHOW HALTER & 2014 TRAIL/OBSTACLE DONKEY WINNER has now moved to his new home in Utah!!! Congrats Bret and Kelly Broadhead, we know he'll do great for you!
---